In the late 1970's Enid Taylor, Pete Szczesiak and Fran Creasey drew together some village teenagers and performed several pantomimes including The Owl & the Pussycat and Cinderella. Some of you may remember these as you sat and watched your children entertaining you. After that there was a gap of some 15 years, until Christine and John Lawrence moved to the village and their directing and acting prowess became known. It wasn't long before they were asked to stage a production at the Benson Hall in December 1995.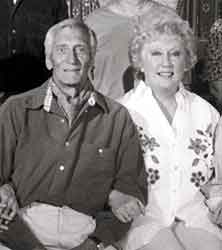 Christine reflects on the beginnings of CHADs ....."John and I moved to the village in 1995 and were asked to stage some entertainment for Christmas of that year. I compiled a show that included an hour's entertainment with children and a further hour with adults; and so 'Christmas Crackers' came into being and this proved to be such a success that in 1996 we formed Compton Hall Amateur Dramatics (CHADS)". Christine started entertaining people at a young age, singing and dancing for them and so by the time she and John arrived in Compton Bassett she had extensive experience in all forms of theatre especially acting, singing and directing. These skills she quickly put to good use running a series of workshops t9 assist new actors in various aspects of stagecraft. John helped extensively, supporting Christine and other actors and of course John, himself was a consummate performer and has been greatly missed by CHADS since his death in 2009.
Christine also took to the stage both acting, singing directing and producing the 8 shows. From these beginnings a fine acting troupe took off with people from Calne and other villages joining CHADS as their reputation grew. There followed thrillers, comedies, old time music hall, straight dramas and several musical revues. Two shows a year were staged with Jen Floyd directing and producing the 'summer' show and Christine the 'winter' show.
The shows and plays are immensely popular with enthusiastic performers and audiences alike. Jen Floyd too has a long history within theatre and when not directing helps back stage and somehow manages to pull costumes out of nowhere, gets props made or loaned to CHADS.
CHADS has also staged a couple of pantomimes in the last few years, written by Hugh Pilcher-Clayton, he managed to coerce several villagers into taking part and they have stuck around joining and learning from some of those who were founder members like Clive Heginbotham and Fran Creasey, those who have joined over the intervening years and recently welcoming back Pete Szczesiak, Reg Waite and Pete Goodenough, who have changed little over the intervening years.
Rehearsals consist of hard work and a great deal of laughter, at times the odd swear word is emitted instead of the 'line' and people find themselves in the wrong place at the time. We always know it will be 'Alright on the night' but is it? In one of the performances of 'Allo, Allo' 'Helga' went to take down her skirt, only to discover that she was disrobing herself of her French knickers too; the night when Mike Hill's moustache kept falling off under the heat of the lights; when the blow up trombones were rather suggestive as they slid slowly from the wings; when 'Elvis' left the stage to kiss Elizabeth Harrison (Jen's sister) who promptly pulled her pony tail back to hide her wrinkles from him; pictures falling off walls when doors were slammed, Richard Hoddinott having to peer through his wig because he wouldn't let anyone adjust it; Jen stuffing a tea towel in her mouth during a performance to stop herself laughing out loud because Reg Waite was making her laugh about Barbara Colbourne's green lips. In one performance of 'Underground' a rather large chunk of the script was missed out, and this was neither the first nor last time over 20 years. Thankfully it is usually only the director and the cast who know when things are messed up and on the whole they cover it well.
None of the shows would give such visual delight should there not be such a wonderful and hardworking team who help out back stage, building sets and painting sets and we are very lucky and grateful to those who help, in particular to Ann and Neil Ward whose artistic endeavours have produced some amazing backdrops over the years.
It doesn't end there though. Our next production will be light-hearted in nature and will be staged on 17, 18, 19 November with Tony Horseman directing for the first time. So if you are interested in taking a look at the group or becoming involved in an acting or non-acting role please contact Fran Creasey on 01249 814539.