Compton Bassett Village Fete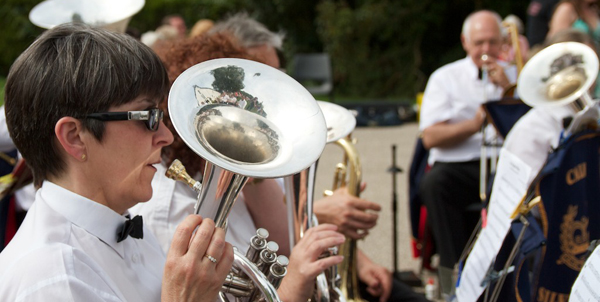 Blessed with a perfect summer's day our Church Fete was a great success. What else could it have been with Calne Silver Band playing all the afternoon for our entertainment. Lots of happy willing helpers, lots of generous giving and spending. Roundabouts, sideshows, teas, barbecues, ice-cream, bottles, books, cakes, DVDs and records, produce, bric-a-brac, nearly new and side shows. The Grand Draw first prize of £100 was won by J.May, 2nd prize Dinner for 2 at the White Horse was won by Isobel Reis.
Children's competitions, Painting 1st Lara Candy, 2nd Kitty Henly, 3rd Edward Candy. Decorated Cup cakes. 1st Lara Candy, 2nd Edward Candy. Fancy Dress (up to 5 years) Charlotte Swanton (6-11) 1st Amelia Hayley, 2nd Edward Candy, 3rd Lara Candy.
One very special helper aged 12 William Smith (Enid Taylor's grandson) deserves special mention because on his own, volunteered to run Rope the Steer, which he did for the whole of the afternoon and the winner was Paul Rossiter. The Chicken Dinner was won by Pam Evans and the Box of Groceries was won by Anna Lane.
Thank you to everyone too numerous to name who all made the afternoon great and an extra thank you to Pete Szezesiak who keeps it all ticking over. We raised £1,600. [In 1967 we made £155 and in 1987 £1,038] how about that?!
Anything that was not sold has gone to raise money for the Great Western Hospital's Special Care Baby Unit which is a registered charity and we do have a Mummy and a Daddy who have a special baby that was born at 34 weeks.