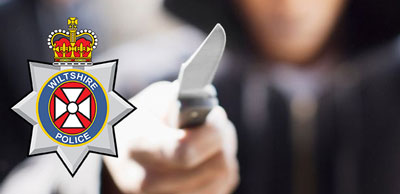 Wiltshire Wide Knife Amnesty And Crime Prevention Fortnight
Wiltshire Police are launching a knives amnesty and knife crime prevention fortnight, starting today (Monday 17 September).
As part of Op Sceptre - the national knife crime prevention initiative also launched today, bringing together police forces co-ordinating ways to tackle knife crime - we will be appealing for people to hand in unwanted or illegal knives and bladed weapons during the period of the amnesty: Monday 17 - Sunday 30 September.
A two week campaign will also feature case studies from people whose lives have been affected by knife crime - from the victim of knife crime to the police officer who had to deal with a serious stabbing
Knives are used as an everyday tool in the home and in industry, but when placed in the wrong hands or adapted for the wrong purpose can have devastating consequences.
Special amnesty bins are available at six locations across the county: Swindon's Gablecross Police Station, Marlborough Police Station, Melksham Police Station, Chippenham's Monkton Park, Trowbridge Police Station and the Temporary Police Station at the rear of Five Rivers Leisure Centre in Salisbury. The knife amnesty gives people the chance to dispose of knives and weapons by simply taking them to one of the specified police stations and dropping them in to an amnesty bin. During the period of the amnesty those handing in knives and weapons will not face prosecution for possession of a knife or weapon and can remain anonymous.
Of the 43 forces across England & Wales, Wiltshire had the 29th highest number of serious knife crimes reported. However, for possession offences Wiltshire ranked 34th of 43 - only Gloucestershire was ranked lower within the South West. Between August 2017 and July 2018, there was a total of 800 offences in Wiltshire, where a knife or blade was used, a reduction of 3% on the previous year. However, any incidents of knife crime are a major concern but the public should be reassured that we will continue to vigorously investigate offences linked to any knives or weapons recovered.
Assistant Chief Constable Gavin Williams said: "We want to raise the awareness of the dangers of carrying a knife or owning an illegal weapon. As a county Wiltshire cannot be compared to what is happening in cities like London or Manchester but we cannot be complacent; we must take action to educate the public and do what we can to remove knives from our streets. Most people in Wiltshire or even in the country don't carry a knife; it should not be considered the 'norm'. A very small minority choose to leave the house with a knife or blade, but the reality is they themselves are more likely to get injured. We hope this fortnight will give people a chance to safely dispose of knives they no longer use, and think about the knives or weapons they may have in the house. They may not know a knife is illegal or haven't considered the risk of an ornamental knife or weapon they own. I would also like to appeal to parents across the county to talk to their children. We know that some young people carry knives for what they consider to be protection, but it is placing them and those around them in danger. During the amnesty we are encouraging people to hand in illegal knives such as Zombie knives, Butterfly knives, Flick knives, Machetes and Lock knives. This is a chance to avoid prosecution by disposing of knives safely in an amnesty bin. Even one knife off the streets is one less that can be used to harm or threaten our communities."