Memorial Sunday During COVID Lockdown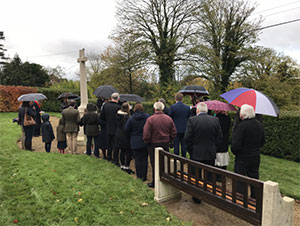 From 5th November there are new restrictions brought about as a result of the COVID19 pandemic.
These are the rules and advice coming from government about holding Remembrance Sunday services.
As it stands our local benefice are not holding a "service" this year. Instead they will be holding an "a formal act of remembrance Event" which will bring the event under the auspices of the parish council at our own war memorial here in the village. This brings a different set of restrictions but maybe a little easier to manage than under the church nationally. Rev Matt Earwicker will conduct a short formal act of Remembrance at the war memorial and the public are asked to stay away and watch it via streaming (If there is sufficient signal). As soon as I have the details to view it I will post them here.
Remember too that the event at the cenotaph in London will also be covered on BBC1
The Royal British Legion this year is advising people to not risk exposure to the virus by attending any service of remembrance.
You are asked as a member of the public to stay away from the event unless in the categories listed below. However, should you be minded to attend, and I have heard of some who say they intend to, please read the following.
Event organisers should keep numbers of those participating in the event to a minimum. No one will be turned away unless under social distancing rules. For the avoidance of doubt, the following people are legally permitted to attend events to commemorate Remembrance Sunday as participants. Attendees should observe social distancing at all times.
Attendees should also take advantage of opportunities for wreath layers to represent wider groups.
people attending as part of their work (such as local councillors, local faith leaders, the local MP)
people attending in a voluntary capacity on behalf of a recognised organisation
members of the armed forces
veterans of the armed forces, and/or their representatives or carers
Members of the public are legally permitted to stop and watch the event as spectators, but event organisers should take reasonable steps to discourage the public from attending events, and be mindful of the risk that such events pose, especially to veterans who are often elderly.
Where members of the public do attend, they must only attend the event with their own household or those in their support bubble, or one other person (children under school age, as well as those dependent on round-the-clock care, such as those with severe disabilities, who are with their parents will not count towards the limit on 2 people meeting outside) and observe social distancing rules.
Government advice currently is that Local authorities in England and faith leaders can organise outdoor Remembrance Sunday events at a public war memorial or cenotaph, but you must first complete a COVID-19 risk assessment and take all reasonable measures to limit the risk of transmission of the virus. Any service must: -
be outdoors, as transmission risks are significantly reduced
be short and focussed on wreath laying, with a reduced march past or parade only if social distancing can be maintained
take advantage of opportunities for wreath layers to represent wider groups
any small, military bands should observe social distancing. Buglers can perform outdoors at Remembrance Sunday events
keep numbers to a minimum, focussing attendance on those wishing to lay wreaths (more information on who can attend below)
take reasonable steps to minimise wider public viewing. The public can only attend the event with their own household or those in their support bubble, or individually with one other person from outside their household
observe social distancing at all times
Limited communal singing, involving the national anthem and one additional song, is permitted outside for Remembrance Sunday, if additional mitigations are put in place. Steps that will need to be taken are:
communal singing must be outdoors only
songs should be a few minutes or less
there should be 2 metres between attendees
any surrounding surfaces that are touched should be regularly cleaned
there must be very clear rules about non-attendance of the symptomatic, those who are isolating as close contacts of a case or who has been advised to do so by NHS Test & Trace and those quarantining
all relevant rules on gatherings are to be followed
consideration should be given to the vulnerability of some individuals